bayopet tick and flea collar for dogs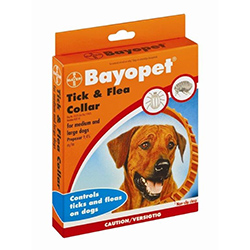 Bayopet Tick and Flea Collar for Dogs - More Information
Direction for Use
According to the size of your dog, get the collar.
Fit the collar around the neck leaving two fingers space between neck and the collar.
Cut off the excess length and dispose it off safely.
Grooming can be carried off as usual.
Key Benefits
Treats and prevents fleas and ticks on dogs
Starts working within few hours
Eliminates ticks within 24 hours
Prevents ticks for up to 10 weeks
Works against fleas for up to 4 months
Designed for total safety of a dog
Safety
Keep out of reach of children and pets.
Wash hands with water and soap after application.
Keep it in a sealed pack unless ready to use.
Store it at room temperature.
Do not drink or smoke while fitting the collar.